The Job Search – 1 Year Update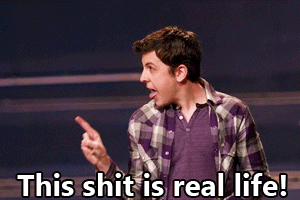 About a year ago, I wrote my first article for The Grown Up Truth about the realities of job searching. (Quick synopsis in case you missed it: it sucks.) I come to you now, almost a year of full-time employment under my belt, with a few reflections. In no way am I an expert on the job search or how to get hired, but these are a few lessons learned by a formerly unemployed believer.
Know what it is you're looking for.
For many of us, figuring out what we want to be when we grow up is the toughest part. After aimlessly applying for a few jobs I didn't really care about, I decided I needed focus. I didn't know the exact job I wanted after grad school, but I did know a few characteristics I needed in a career: to work for a company I believed in, flexibility because I'm not about being chained to a desk all day, working with people and travel because a tumbleweed needs to tumble. Once I knew more about what I wanted, excitement replaced dread when thinking about the future.
Persistence pays.
Don't let people forget about you. No one wants to be that person, and you certainly don't want to ruin your chances by being overbearing, but don't be afraid to follow up. Haven't heard back from the cover letter you spent days writing? Pick up the phone and check in. Even if they get back to you saying the position had been filled, chalk it up to another job biting the dust and move onto the next. Follow up when it's bad news, too. I know it's the most fun when someone tells you no to say, "That's great. Can you please tell me all of the ways I'm not good enough?" but it could be helpful. When I learned I didn't get an interview, I always asked for feedback. Sometimes they blew me off, but sometimes they gave me great insight on how I could strengthen my application. Persistence got me several interviews and ultimately, my current job. It's easy to feel like a pest, but it's worth it in the end.
Find a mentor.
For me, my college mentor was a huge asset in the job search. Not only was she an excellent reference, but I was able to seek her advice when I wasn't sure what to do. Because she had worked with me for many years, she also probably knew my strengths and weaknesses better than I did. After a nightmare interview, we sat down and refined my answers to those beloved interview questions, and the next time, I had a much better response for where I wanted to be in five years. She asked me tough questions about my future and forced me to face my weaknesses honestly. She also made sure I played up my strengths. Whether from a college organization or a former supervisor, mentors like these are invaluable when you're starting the next chapter of your life. Stay connected with them.
Use your resources and maintain them.
Speaking of staying connected, you know when people say it's about who you know? I won't say that's 100% true, but goodness does it help to get your foot in the door/to get someone to actually look at your resume. Finding out who you know who knows someone at the company can be a huge asset to getting the interview and once you're there, they'll love you, right? Networking is hugely important in today's job search, and maintaining the relationships you make is equally as important. I read once that you should never take a business card if you don't plan to use it, and I tried my best to stick to that and make sure to follow up. Writing thank you notes should not be a forgotten art form – write them and make them meaningful. Use your peers as resources, too. I sent cover letter after cover letter to friends for editing and suggestions.
Do not accept defeat.
I applied to roughly 23 positions, went on six interviews and ended up with two job offers. That means I heard "no" at least 21 times (if I heard anything at all), which frequently feels like, "you're not good enough." It's hard out there for a job searcher. It's especially tough when your peers are finding jobs left and right and you face the look people give when you respond that no, you still haven't found something. I remember scrolling through Facebook last summer and thinking, "Really? That guy has a job and I don't?!" Some days you're going to be down on yourself, but don't let any company or person make you feel like less of a human because they didn't give you a phone interview. As annoying as I know this statement is, the right job will come along. When you need it, pour a little vino and laugh at the uncertainty of life in your 20s but remember that you're great.