LeSteph: The New Age Basketball Game
**Editor's Note: This article was written on Sunday 6/6 after Game 2.  Since then, the Warrirors and Cavaliers have played 3 games, with 2-1 (Cavaliers) 
I am not a basketball fan. There is no animosity towards the sport, I just never grew up with any strong ties to a specific basketball team. But since I am a current Bay Area resident, I have had to keep a simple score card for the Golden State Warriors and Cleveland Cavaliers NBA Finals series. Game 1 was completely vanilla,  a mix of the expected twists and turns but nothing that excited the soul of my Grinch like attitude to the game.
I found Game 1 quite boring.  Yes, Lebron and Steph played the "Who can shoot better?" but it wasn't entertaining.  Yes LeSteph, we know you can shoot.  With the multi-million dollar endorsement deals and MediaTakeOut mentions, we are aware of your athletic abilities.  But what LeSteph brought to Game 2, now that is real basketball.
Game 2 was flawless with sweat, slapping, and the Riley Curry realness that all of her fans expect.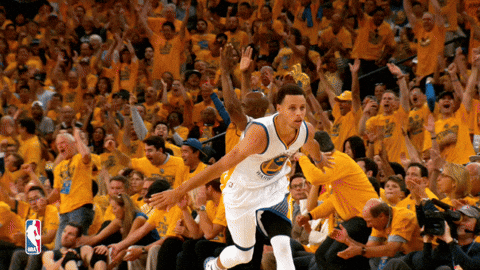 Watching Lebron James get [insert obligatory cuss word] slapped in the middle of the court was definitely a highlight.  It only makes sense for someone to get a little beat up during a NBA Finals game.  LeSteph wants the ring and the pay bonus. (Honestly, I can't fault anyone for that.)  Steph Curry entertained the sold out crowd with his three throws that literally come out of nowhere.  I actually imagine him throwing balls from all directions until they go through the net during practice sessions.
We also cannot forget to acknowledge Riley Curry, the Princess of Basketball, and her fabulous pink outkit.  Riley has become an internet sensation this month with her post game interview commentary.  But what makes Riley truly special is that  she has no understanding of her father's popularity. I'm sure she wonders why so many random people call her dad's name in public or why people stare at her with slightly stalkerish curiosity. In her world, Steph Curry is just ""daddy".
So what can millennials learn from the never ending media circus known as the NBA Finals?
Just like basketball, you are not going to win every game: Some losses are a result of your failures and others are a result of "His/Her best was better".  That doesn't mean that you should stop playing basketball.  It just means you should focus on your jumpshot.
The LeSteph members are both millennials of privilege: Not every 20-something is given a media platform and an array of products to endorse at their leisure.  But with privilege comes great responsibility.  If the Warriors lose this series, the Curry Hater Committee will be out to play.  The same is true for Lebron.
#BeLikeRiley: Clearly Riley Curry is doing something right to be the newest child internet sensation.  But she isn't doing anything extraordinary.  She has decided to just be her sassy and fabulous 2 year old self.  Take a note from Ms. Curry and never change your morals, beliefs, or personality traits to submit to the standards of your personal and professional environments.  Find a way to make your personality shine in a professional setting without being penalized or judged.
While the NBA finals season is still running strong, it is inevitable that the team who wins WILL NOT be the team who wants it more but the team that can hold their breath longer. LeSteph comprises two of the best athletes in the history of sports and I will never claim that one deserves the 2015 trophy more than the other. But what we should learn from LeSteph is that you may not win the professional prize today but you have to at least put yourself in a position to be given an opportunity.
I don't know if I will ever immerse myself in the world known as basketball nor will I cuss out a television screen during the next bad call. Instead of concerning ourselves with the outcome of this series, let's study how these players became "LeSteph" – an unstoppable pair of athletes who have cemented themselves in NBA history already.
Millennials, it is never about the number of points you scored in the final game. People will always remember the winner and the loser.  But people will appreciate and respect how you got to the finals.
…And when in doubt, just pull a Riley Curry and recite your favorite rap song.  If she can do it in front of ESPN, you may get some brownie points for performing at your next interview.  Who knows?