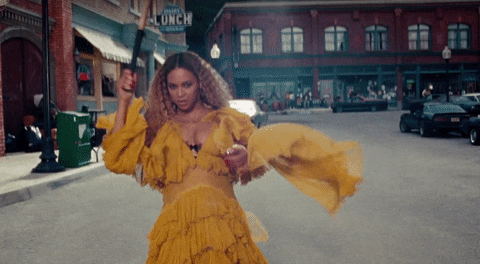 Since Saturday's Lemonade premiere, the internet waves have been buzzing about the rumored affairs of HOV, the #BlackGirlMagic that is the visual album, and Beyoncé's supposedly new found consciousness.  Many emotions arose as I watched the HBO screening.  Many of these feelings I did not know I had until Mrs. Carter so graciously showed them to me.
Naturally, I decided to talk to my mom about the video during my commute earlier this week.  While she had not watched it yet, she started annotating my thoughts. This is one of the many reasons why Darcell is basically my therapist, mom, chef, and shopping buddy all rolled into a 5'1 package. It is awesome and so efficient to have all of those things in one human.  It is even more awesome to have the right to call her at any time of day or night to tap into her wisdom.  Since she is my mom, she has to answer the phone. And yes, I take full advantage of this all the time. 
But Back to Beyoncé.  The mini movie made me take a step back and think about my worth as a Black person, as a woman, as a creative, as a human, as a person who wants to make this world a better place.  I can roar #BlackGirlMagic until my voice cracks, but do a truly believe the words I am screaming? How much of my personal worth do I get from myself? How much do I need from other people? How much of it comes from the romantic advances of men? 
While I do not have the answers to these questions for my own personal self love journey, I hope that the continued discussions about Yoncé's recent artistic masterpiece are centered around the definitions of worth and less on her alleged marital problems with Hov.  Her marital problems are premium gossip  but they are none of my business and they do not help uplift me or my squad.
From a professional standpoint, Lemonade is living proof of what happens when you have 100% control and power of your career. I don't think – and you can argue with me about this in the comments below – that Crazy In Love Beyoncé could have made this album and received this much praise.  I would also argue that Upgrade U Beyoncé, Single Ladies Beyoncé, and Drunk In Love Beyoncé, was not at the level that could have successfully developed this content (from a sales perspective).  It is also very evident that even if those other Beyoncés tried, it would not have been authentic.  There is something about maturity, living, and adulthood that just makes you not give two flying f%cks about the opinions of others. And that type of power is the power that we should all want.  Professional and personal freedom is the ability to stand on your truth, regardless of the criticisms of the world, and feel confident with your choices.  To have that kind of peace is my ultimate life goal. 
All in all, Lemonade just confirmed my appreciation for Yoncé and my excitement for my 30th birthday, an age when I hope all of this life stuff will start to make sense and my level of not giving two flying f%cks about my authenticity will be at an all time high. Until then, I will just invest in a high quality bat, wear an "Ashes to Ashes, Dust to Side Chicks" hoodie, and pray for the day that I can take twerk lessons from Sistah Serena.  
Much Love,
Lexi B